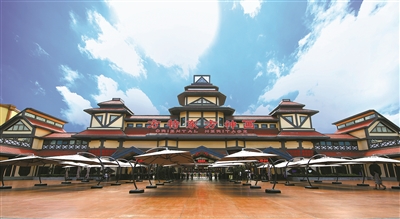 The Fantawild Oriental Heritage. /寧波方特東方神畫景區。
  [Photo by Zhuo Songlei, Yu Changsheng]卓松磊虞昌勝攝
  By Dong Na
  Located near the south end of the Hangzhou Bay Bridge, the Fantawild Oriental Heritage is a large theme park with high-tech rides. The park has eight areas: Folk Tales, Chinese Opera, Classic Love Legends, Fascinating Culture, Acrobatics, Folk Festivals, Folk Crafts, and Fun Rides.
  寧波方特東方神畫景區位于杭州灣跨海大橋南岸,是一個充滿傳奇故事的大型高科技主題樂園,由民間傳說、民間戲曲、經典愛情傳奇、神秘文化、雜技與競技、民間節慶、民間手工藝、綜合項目等八大項目區組成。
  As you walk through the park, you will see many majestic buildings inspired by traditional Chinese culture.
  在東方神畫的世界中漫步,目光所及皆是充滿中國古典特色的建筑和樓宇,氣韻非凡。
  The park has more than 20 rides that utilize advanced technology such as 360-degree projection and animatronics to give visitors an immersive experience. Notable rides include "Nüwa Mending the Sky" and "Eternal Butterfly Love".
  園區中的"女媧補天""千古蝶戀"等20多個主題項目,運用了四面幻影成像、實景特技機器人等全球頂級的設備技術,給游客帶來沉浸式的體驗。
  Now that summer vacation has begun, the park is putting on regular night-time parades. After dark, traditional and modern music performances, fireworks, and water-splashing games transform the park into a land of excitement. Weekend crowds at the park could reach 20,000.
  暑期來臨,東方神畫景區也推出了夜游項目。華燈初上時,園區里變得格外熱鬧,復古歌舞、煙花盛宴、國潮電音、潑水互動,周末的游客接待量能達到2萬人次。