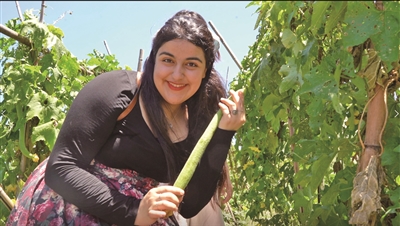 Sara was plucking the towel gourd. (Photo by Cai Ke)
  One day in early August, Seyedeh Sara Ahmadi Nishaboori from Iran was invited by Ningbo Evening News for a fantastic tour of Daren Village (aka "Fairy Town", Ningbo's first pastoral complex) in Waicao Village, Jiangbei District. Sara started her adventure with vegetable picking and Ferris wheel riding. She learned about traditional Chinese solar terms and a unique irrigation system, as well as savoring local organic vegetables. Traditional paddy fields and modern entertainment are integrated perfectly to enhance the aim of common prosperity advancement.
  Sara, a Chinese culture enthusiast, has gained hands-on experience in local villages since moving to China nearly two decades ago. She also speaks fluent Chinese and Ningbo dialect, making her a perfect fit for promoting local culture to the rest of the world. It was her first time to get an immersive experience in Daren Village, an urban pastoral tourist destination. Introduced by planning manager Ying Shuangshuang, Sara's first stop was to farmland where various seasonal plants are cultivated: sunflowers, traditional Chinese herbs, and diverse organic vegetables including carrots, corn and sweet potatoes. Towel gourd is also a seasonal crop grown in the planting area. With the help of local staff, Sara learned how to harvest towel gourd and its health benefits. People are more familiar with the loofah whose natural fibers are used to exfoliate the skin. Furthermore, eating towel gourds with other seasonal vegetables during the summer is highly popular in China, especially in Ningbo. It is said that they can remove internal heat and balance the yin and yang.
  Sara then got the chance to prepare and cook a local dish of stir-fried fresh towel gourds, with eggs from the general manager Wang Shijie. Large traditional Chinese woks were set up at the experience area, where local villagers can cook meals with firewood. Sara washed and peeled the skin before finely dicing the towel gourd. She heated the wok before adding cooking oil. The eggs and chopped tower gourd were then stir-fried on medium heat. 5 minutes later, this local cuisine was ready to serve. Sara was deeply impressed by its fresh taste and soft texture.
  At Wang's invitation, Sara went to the highest point in Daren village by taking a spin on the 48-meter Ferris wheel. From her vantage point, she could see breathtaking views of the village and the city's iconic landmark. Wang revealed that the capsules mounted on the outside of the passenger cars represented the 24 solar terms. These are highly valued by the Chinese people, especially farmers since they are important instructions for the agricultural production as well as ritual practices. For example, "Grain Buds" – the eighth solar term in the lunar year – indicates that the grain is about to ripen, whereas "Awakening of Insects" – the third solar term – signals a rise in temperature. Sara appreciated the traditional Chinese culture as well as the creative design of the Ferris wheel, which has gained great popularity among people of all ages.
  A large greenhouse caught Sara's eye as she strolled down Daren Village. Wang explained that it is part of a modern agricultural exposition complex, covering an area of 5 acres with more than 200 crop species. Soilless cultivation, irrigation circulation systems, shade systems, ventilation, and temperature control systems are among the high-tech methods used. In line with the philosophy of "health, ecology, environmental protection, low carbon, and recycling," various organic and pollution-free vegetables, flowers, and fruits have been cultivated using new agriculture technologies and the Internet of Things. Sara picked a little pumpkin and tasted fresh watermelons grown in this pesticide-free greenhouse. Wang then explained that the staff combine water, fertilizer and various components according to the peculiarities of different crops as preparation for an automatic irrigation system that uses over 6,000 underground pipes. The water is recycled via the return pipe, saving around 80% consumption compared to a regular greenhouse.
  According to Chen Xiyao, the vice Party chief of Waicao Village, the area has attracted hordes of tourists from all over the country, giving a boost to local employment and residents' living standards. What's more, in January Waicao Village was listed as a AAA scenic village in Zhejiang Province. Initiatives to integrate agriculture and tourism are presented as a way of achieving common prosperity. This trip was organized by Ningbo Evening News, providing expats in Ningbo and individuals from all over the world a unique window into Ningbo tourism and specialties.